The title industry is changing...
What are you doing to mitigate title issues?
We are a titling company with over a decade in the industry. We specialize in mechanic liens, towing liens, abandoned manufactured home liens, and title transfers, storage and facility liens, and vessel liens.
Towing & Storage Lien

Mechanic Liens

Abandoned Mobile Homes

Self-Storage Facility Liens

Mobile Home Title Transfers

Vessel Liens

Lawfirms & Attorneys
Most states allow a towing company to recover costs associated with the towing and storing of a vehicle, manufactured home, or vessel by filing a towing & storage lien. If the process is successful the towing company is issued a title to retain, resale, or dispose of the towed property. At Snickfish™ we handle the entire tow-to- title process, just fax us your tow ticket and wait for your title to arrive. In some cases the towed property may be of little or no value therefore the towing company may need to apply for a Certificate of Destruction granting them the authorization to dispose of the property. If your state permits this process then we can handle that as well. We can also report your CD vehicles to NMVTIS. Call us today and see just how easy and inexpensive it is to get your title.
If you repaired a vehicle and were not paid for the repairs then you are allowed to apply for title to that vehicle under laws in your state. Even if the vehicle has a lien holder you can get title or full payment. State Statute Lien laws are extremely complex set of laws and are by far the most challenging of all liens that we process. If the smallest detail is overlooked the lien will be rejected and the entire process has to be initiated again. We are the title experts and this is what we do, so the next time you need a title in a hurry give us a call, you will be delighted you did.
Mobile Homes are abandoned for a variety of reasons, but getting a title for it is another story. It's challenging to stay current with State laws and regulatory mandates governing abandoned property. Mobile Home Park owners and Property Management companies are constantly battling the State, local courts, and the DMV bureaucracy. What works today might not work tomorrow. We make the process a lot easier with our Online Title Management (OTM) program, you don't have to worry about dealing with those hassles. Just jump online and provide us with a few details then wait for your title – it's that simple. And for those who own or manage multiple communities, our OTM program provides a broad overview with the ability to manage all of your abandoned property transactions. So keep us in mind the next time you need a title for abandoned property and we'll show you just how fast and efficient we are.
If you own or operate a self-storage facility and store personal property like vehicles, boats, R.V.'s , motorcycles, and trailers then you are eligible in most states to apply for title under the Abandoned Property process. These laws provide a measure of financial relief for storage facilities that are left with abandoned property. Once you obtain title you can liquidate the seized property to help off-set your losses.
If you have ever handled a mobile home closing then you know that a simple procedure like transferring a title can quickly turn into a nightmare. State and local laws governing title transfers are often challenging and can be difficult to process. Believe us we know, and we are willing to bet you know too. That's why we created our Online Title Management (OTM) program that virtually removes any risk of your application being delayed or rejected. Hundreds of mobile home communities and national clients are already using our online services to ensure their titles are processed fast, accurate, and inexpensively.
In recent years, marinas, boat yards, and boat storage facilities have seen an increase in abandoned vessels. Most vessel storage facilities have limited space so an abandoned vessel can quickly become unprofitable. Under most state abandoned property laws, a vessel storage facility can acquire title to a vessel through a storage lien, so give us a call today and let us turn your loss into a gain.
Publishing newspaper ads, running down owner records, trips to the DMV, and sending out certified letters all take time, and time to an attorney is money. So change up your game and stop asking your assistant or paralegal to process your title work. Send it to us and we'll make sure you get your title as fast as a title can be gotten and we'll do it affordably. If you want to be competitive in the legal field you will have to make smart decisions and outsourcing your title work is one of them. We are the experts with the know-how and resources to get the job done. So do as many other attorneys have and utilize our infrastructure to increase your client base and profit margins.
Cloud SaaS meets Mobile Home Title Management.
OTM is rich in features, with multiple transaction types, title inventorying, reporting, support and more!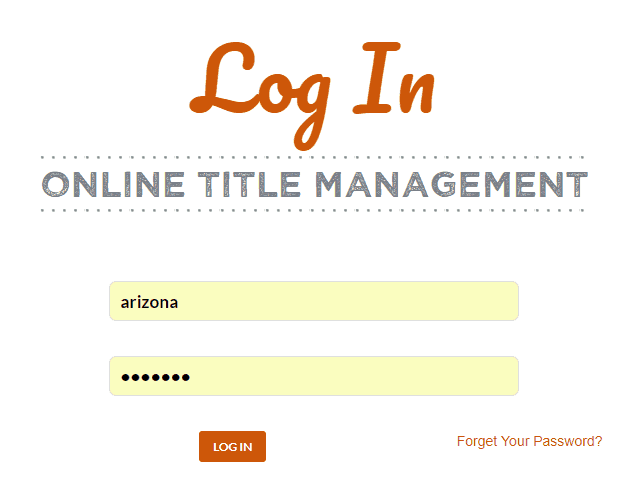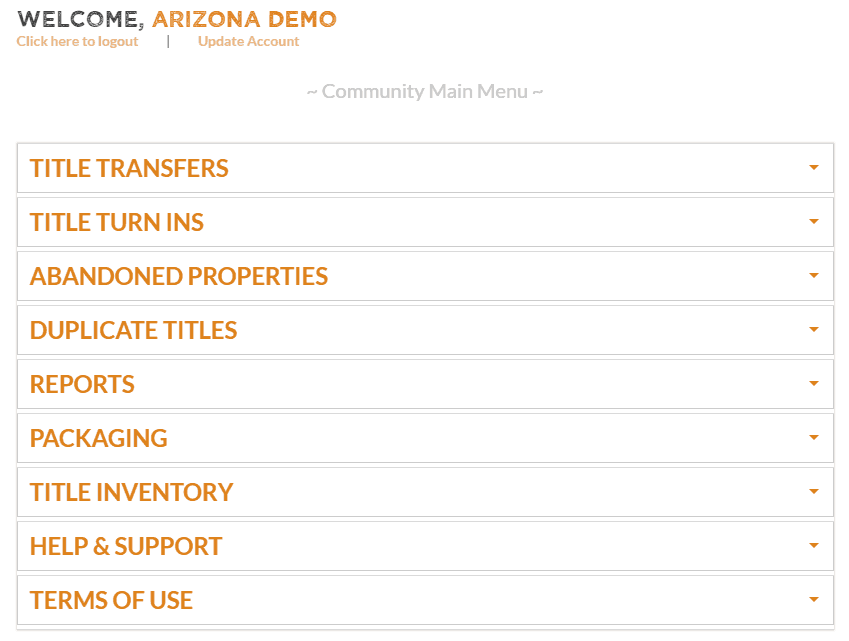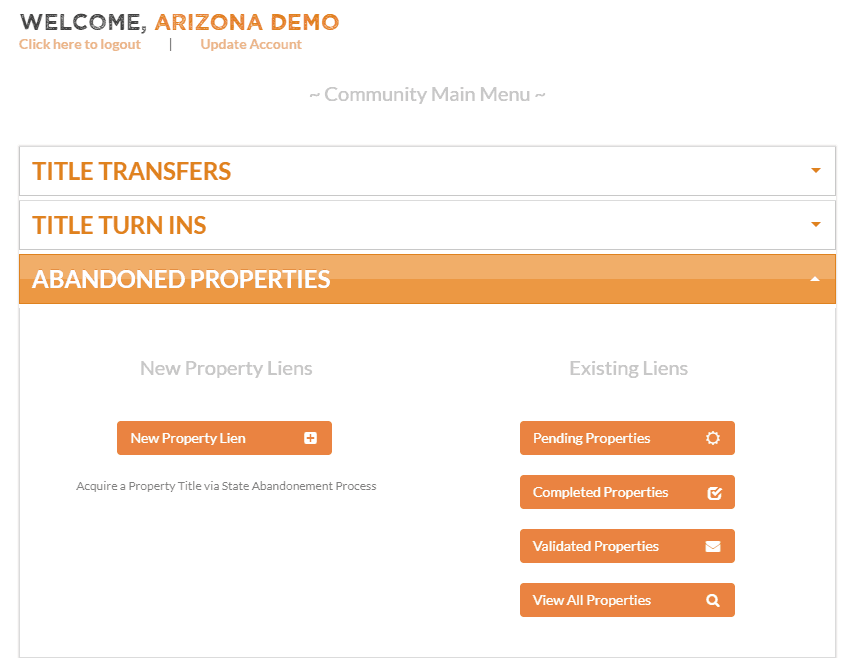 Still have some questions?
Not sure what you're looking for, or just need some help? Give us a call by clicking below!